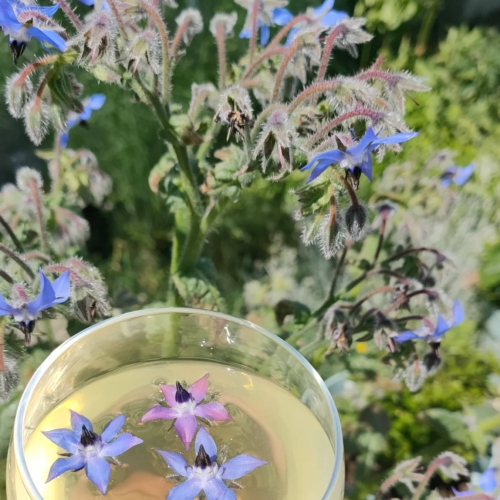 Borage Lemonade
Ingredients
Instructions
Put the leaves, juice, water and honey in a blender and blend until smooth. Strain into glasses and garnish with Borage flowers.Enjoy!
Notes
While we know that Borage is well-loved by bees, here is some more information about this wonderfully diverse plant.
Borage, which is also called Starflower has many properties which support women during menopause and PMT. The oil is extracted from the seeds.
It is an anti-inflammatory and aids the discomfort of breast tenderness. It assists in alleviating hot flushes and mood swings.
Borage is high in potassium, iron and calcium and also high in GLA (Gamma Linoleic Acid). Essentially it acts similar to a hormone in the body.
There is a mild-tasting flavour to borage (similar to cucumber) and it is very refreshing. The leaves can be added to salads, yogurt and cream cheese.
The flower of the borage plant can be used in ice cubes as a decoration for your summer drinks, cakes and desserts.